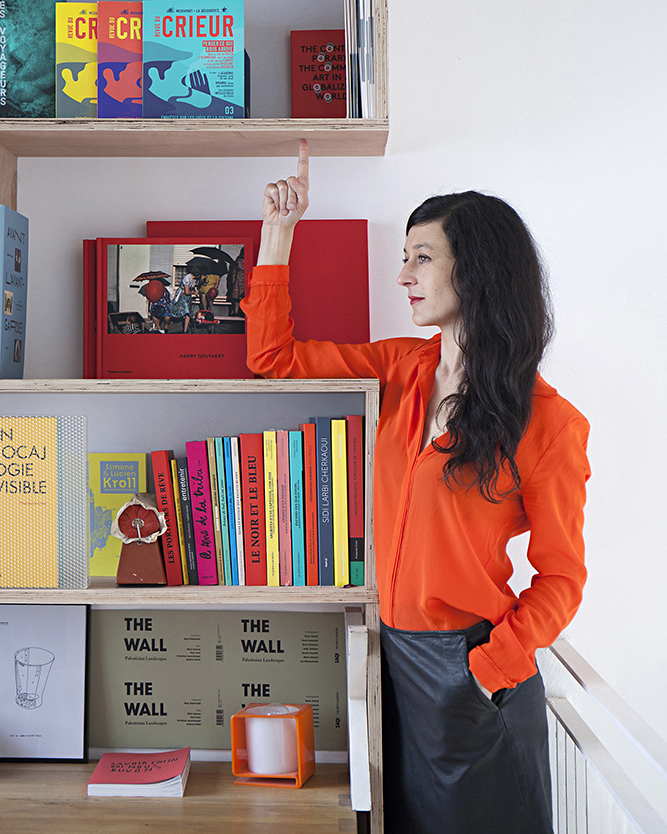 About
Trained at the École Supérieure des Arts Appliques Duperré and at the École Normale Supérieure in Cachan, she favors a practical and interdisciplinary approach to her profession, multiplying collaborations with personalities and institutions from various disciplines.

A first meeting in 1999, led her to supervise the conception and graphic realization of the first book of the choreographer Boris Charmatz, Entretenir. A long collaboration with the National Dance Center will follow, both for editions and exhibition signages.

At the age of 26, she meets Xavier Barral, with whom she develops a fundamentally human approach to publishing, centered around the artist and object-books. Its activity then extends to new creative fields, notably through collaborations with exhibition curators such as Chantal Pontbriand and Jean De Loisy, architect Patrick Bouchain and designer Constance Guisset.

In 2008, she won the prize for The Best French Books for her book-object with the choreographer Angelin Preljocaj, Topology of the invisible. Then begin long collaborations with several publishing houses, such as Textuel - more than thirty books made together - Actes Sud, Naïve, Flammarion, Pyramyd or Jean Boîte Editions.

Since 2015, she supervises the graphic design of the magazine Le Crieur co-founded by Mediapart and La Découverte.

In 2017, she won the DA Club Award for Harry Gruyaert's East/West book. That same year, she designed the signage and the catalog of the exhibition Autophoto with Xavier Barral as well as the graphic identity, visual communication and signage of the Malick Sidibé Mali Twist exhibition for the Cartier Foundation for Contemporary Art. There will be regular collaboration with this institution. To date, the studio has signed the graphic design for Junya Ishigami's exhibition, Free architecture in 2018 and Nous les Arbres in 2019.

In 2018, the Nadar Prize goes to the book she made with Clément Chéroux and Textuel edition entitled The Train, The last Trip Robert F. Kennedy

Today, Agnès Dahan Studio collaborates with many institutions, public, associative or private, from various sectors. His most loyal clients include Reporters Without Borders, the Ecole Nationale Superieure des Beaux-Arts in Paris, the Museum of Decorative Arts, the Philharmonie de Paris, Van Cleef & Arpels, Louis Vuitton Foundation, Carmignac Foundation and still the Galerie des Galeries Lafayette.

In 2019, for the second time, she won the DA Club Award for the contemporary art catalog Cross Examination with Jean Boite Editions. The studio signs the graphic identity, the communication, the signage and the catalog of the exhibition ELECTRO - De Kraftwerk in Daft Punk for the Philharmonie de Paris alongside the curator Jean-Yves Leloup. The exhibition will be presented from September 2019 as part of the Venice Biennale.

Agnès Dahan also participates in numerous international workshops, conferences and juries.
Philosophy
Founded in 2004, Agnès Dahan Studio is a graphic design studio specialized in cultural publishing and visual identity through several disciplines: photography, design, contemporary art, but also live arts, performance or press.

Working together with materiality and conceptuality, the studio promotes an empirical and human approach, nourished by the professional experiences of Agnès Dahan through several disciplinary fields. It revolves around meetings and exchanges that lead them from project to project: the choreographers Catherine Contour, Boris Charmatz and Alain Michard, the graphic designer and publisher Xavier Barral, curators and critics Chantal Pontbriand and Jean De Loisy, architect Patrick Bouchain to name a few. It is the living and the exchange, which are at the heart of the studio's know-how, in order to imagine and design books, objects, identities or singular communication axes, as close as possible to expectations and needs of its interlocutors.

With the aim of alchemy of substance and form, the alliance between technical possibilities and graphic inventiveness, Agnès Dahan multiplies the collaborations - typographers, printers, screenprinters, paper makers: she surrounds herself, according to her projects, knowledges relevant to investigate the field of possibilities and develop its intuitions, to unroll them with rigor, authenticity, methodology and creativity.
Clients
Fondation Louis Vuitton, Paris
Le Bal, Paris
Fondation Cartier pour l'Art contemporain, Paris
Van Cleef & Arpels
Galerie des Galeries
Musée des Arts décoratifs, Paris
Galerie Fifty One, Anvers
Philharmonie de Paris
Musée du Quai Branly, Paris
Ecole des Beaux-Arts, Paris
Centre National de la danse, Pantin
Palais de la Porte Dorée, Paris
Fondation Lhoist, Belgique
Musée CA2M, Madrid
Mudac, Lausane
La Halle aux sucres, Dunkerque
Palais des Beaux-Arts, Lille
muCem, Marseille
Le Lieu Unique, Nantes
Le Fresnoy, Tourcoing
Forteresse Royale de Chinon
Musée de la Résistance et de la Déportation, Limoges
Musée de la danse, Rennes
Le Ministère de la Culture et de la communication
Institut Français, Paris
Jean Boîte Éditions
Éditions Textuel
Éditions Noeve
Éditions Gallimard
Éditions Actes Sud
Éditions Flammarion
Éditions Xavier Barral
Éditions de la Bnf
Éditions de la découverte
Éditions naïve
Editions Sternberg Press
Éditions Paris-Bibliothèques
Éditions Pyramyd
Éditions Du Chêne
Éditions de l'Attribut
Journal La Terrasse
Revue Ecart/s
Reporters sans Frontières
Médiapart
Festival Furies
Compagnie Deschamps-Makeïeff
Compagnie Edna
Compagnie Royal de Luxe
Association Art-Wall-Stickers
Agence Atalante-Paris
Pédagogy
May 19th 2019
Jury of Agrégation of Applied Arts
Ecole Boulle, Paris
April 16th 2019
President of the design jury
of Club des Directeurs
Artistiques

October 18th 2018
Conference
Invited by PaTI (Paju Typography Institut)
South Korea
October 15th to 17th 2018
Workshop Intimate Distance
in PaTI (Paju Typography Institut)
South Korea
November 2017
Jury at CONDÉ school
Master Global Design, Research, Innovation (MDGRI)
and Master Communication Strategy by Image (MSCI)
October 28th 2017
Photobook Social Club - Espace Beaurepaire, Paris 10
Conference on the edition of the photography book by describing the whole chain: from conception to marketing, led by Emmanuelle Halkin and François Jolly of the Festival Circulation (s).
In the presence of photographer Corentin Fohlen, publisher Trans Photographic Press, graphic designer Agnès Dahan, printer Escourbiac, distributor Pollen and bookseller Marc Pussemier.
October 17th 2017
Jury of the Nadar Prize for the photographic book 2017.
See the press kit
June 2017
Conference during Typeparis 2017
See the Talk
June 2017
Jury at the EESAB Lorient
DNAP Communication

May 2015
Jury degrees DNSEP Graphic Design
ESADHaR School, Havre.
September 2014
Worskshop to CA2M (Centro de Arte Dos de Mayo) in Madrid
within the exhibition "PER / FORM" How to do things with (out) words?
October 2009
Workshop "Zapbook" within the GIFT workshop
the Museum of Dance in Rennes, National Choreographic Centre
Direction: Charmatz
2006-2008
Graphic Design teacher at the School Prép'art, Paris 11e.
2006 and 2007
Jury degrees DSAA visual communication ENSAAMA,
National School of Applied Arts and Crafts, Paris 15e.
2005 and 2006
Monitoring of student Masters Projects of the Special School of Architecture, Paris 14e.
2005
Graphic Design Workshop at ESAAB, École des Beaux-Arts de Rennes
for students DNAP Option Edition.